Salvaged: a Layered Pieces Journal


Are You Ready?
Transform your relationship with paper with Roben-Marie as she guides you through an in-depth, hands-on study of the architecture of an art journal she nicknamed "DJ"- short for Dictionary Journal.
$65
SIGN ME UP!

Take a Peek Inside the Classroom...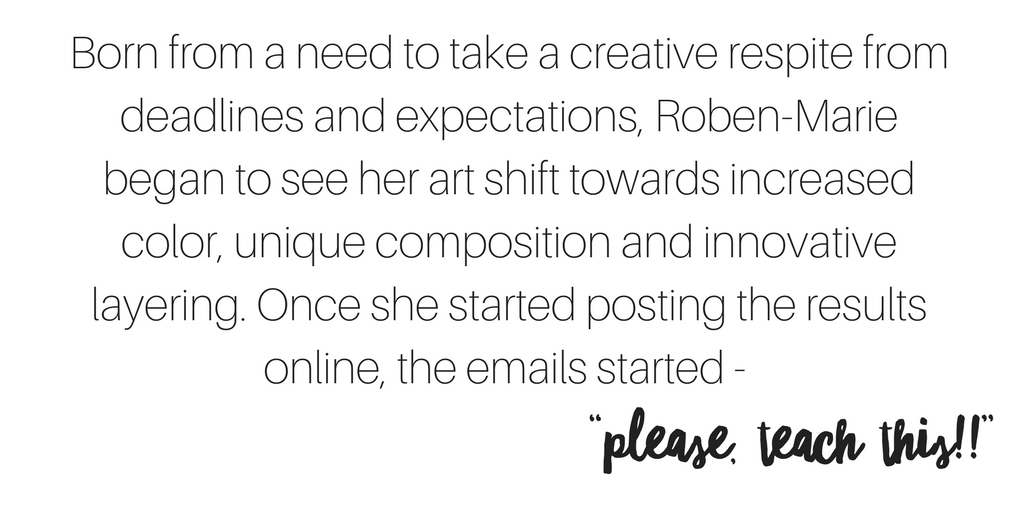 You will build your own creative cache of papers
(let's start by downloading colorful handmade prints),
and then build your art journal step-by-step.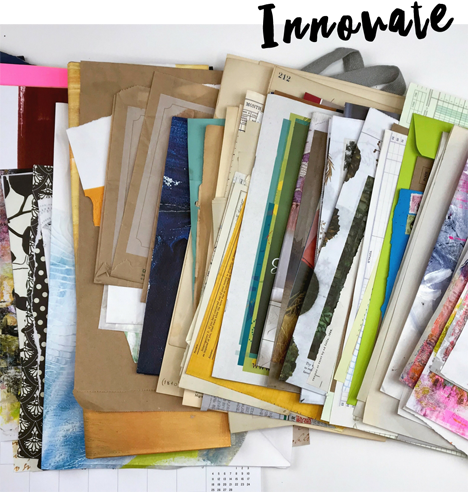 Innovate your pages using the architecture of the journal -
learn how to create both within the pages and on the pages
by layering color, paper and texture.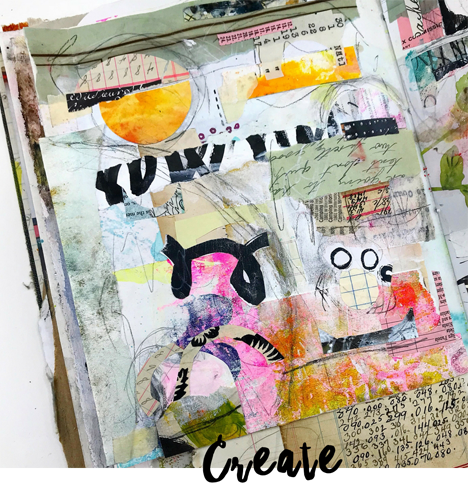 Once completed, we will work through 4 pages together -
watch and hear the process of building a page in this unique
style combining paper, paint and handmade elements.

This is not your expected "build an art journal" class. We will journey from start to finish - creating your own art journal - (you aren't required to name it but you may want to consider it!) the how's, the why's and the where's.

as she shares where she shops for her old books, vintage papers, her unusual papers and her "don't throw that away!" pieces through virtual field trips and online sources.
Sign up for SALVAGED: a Layered Pieces Journal


•Access to my user-friendly classroom - compatible across all your devices
•Short, to-the-point instructional videos in HD
•Private Facebook Group to ask questions, share your work and meet other artists!
•Two full-color printable artist papers (retail value: $6)
•Two full-color printable artist papers of bits you can cut out (retail value: $6)



Two full-color digital artist papers for you to use in your journal!
VALUE $6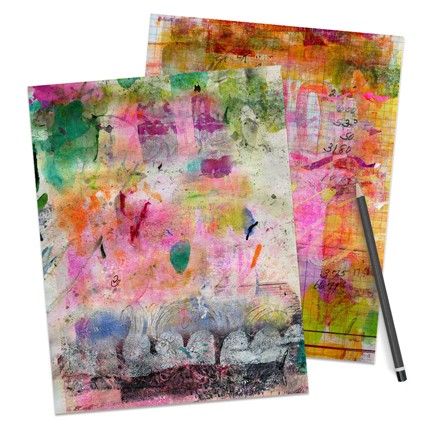 Two full-color digital artist papers for you to cut up for collaging on your pages!
VALUE $6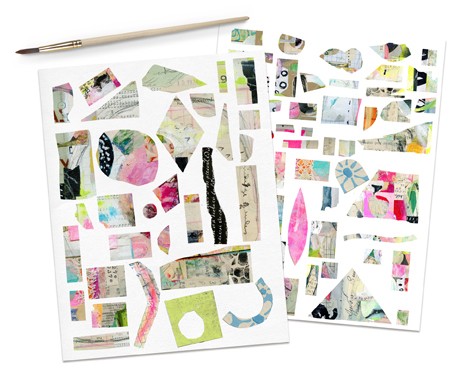 •User-friendly classroom
•Short, to-the-point videos
•Compatibility across all your devices
•HD videos - I shoot with good lighting and you can see clearly what I am doing
•Downloads are all in PDF format, compatible with all systems

"I loved this workshop! I was so sad that this is the end. Your videos were easy to understand and to follow your directions. I love watching your sense of color, elements of design and decoration."
-Julie Houck


"I loved this workshop! Thanks, Roben-Marie for taking the time to create such a comprehensive class. I would recommend this for anyone who has any interest in collage, book-making, or art journals."
-Cindy Smith


"I have learnt so much from this course. I never thought about painting and decorating paper and now I'm hooked"
-Kim Skinner


"I have been following Roben-Marie for years. She is always fun, inspiring, easy to understand and efficient. A wonderful teacher."
-Kim Cragin


"I just loved this workshop. So many great ideas on creating the pages and techniques on making every page special. I love the color combinations used. So excited to take what I learned to create my own journal and continue to improve my own style. It's also nice to know I can reference the class whenever I like."
-Sandy Orr

"I have had my eye on this workshop for a long time and I am so very glad that I finally purchased it! Roben-Marie's teaching style is great, just enough talking mixed with a lot of showing!"
-Shellie Derouen

"Roben Marie's teaching style has always been consistent. I love her easy manner and step-by-step instructions. She makes me giggle and I feel like she is sitting in the same room with me. She is always innovative and accessible. Her lessons are just loads of fun! This woman is a jewel."
-Susan Ogde


"I love the way Roben-Marie teaches. Her videos are relaxed and welcoming, reminding us if it's not quite right that's okay."
-Debbie Kennedy


"I love that Roben-Marie likes her own work. Her friendly manner and voice make class fun. All the details and thinking out loud are helpful to me when learning."
-Angela Rand


"Roben-Marie has such a friendly, open teaching style. She makes it all seem so easy with well-edited videos, clear step-by-step instructions, and the freebie art pages."
-Valerie Orner
Frequently Asked Questions
These are some of the questions people most frequently ask :
Are videos available for download?
Yes, videos are available for download.
How long do I have access to the course?
After enrolling, you have unlimited access to this course for as long as you like - across any and all devices you own. If there should come a time when the school closes, you will be notified.

How is the content filmed? Will I be able to "see" what you are doing?
The videos are filmed top down just like you are looking over my shoulder. I pay special attention to lighting so that you can see what I am doing clearly. I also zoom in on essential steps when possible.

When does the course start and finish?
This course is self-paced so all content is available when you sign up.

Do you provide a list of the specific supplies you use?
Yes, I provide a supplies list but feel free to use what you have.
Do you provide a list of the specific supplies you use?
Yes, I provide a comprehensive supplies list but feel free to use what you have. My students want to know "all" the supplies I use and I provide that information, but don't feel you can't do the project if you don't have all the things.

Hey!  I'm Roben-Marie and I provide ideas, inspiration and quality instruction for hobbyists and art entrepreneurs. I teach artists from beginners to those making a living from their art through my blog and my popular online workshops.  Both in and out of the studio, my passion is helping my fellow creatives step into their full potential by creating confident and expressive art.


As a woman of faith I believe that I'm called to serve and support others, so I strive to be accessible to artists who need my help. Seeing other creators embrace their unique voices, build their online art dreams and gain confidence in their new skills brings me great joy.


I've been a working artist since 2004, am self-taught and believe that anyone can cultivate their creative spark. I've taught mixed media art workshops and retreats across the U.S. and my work has been featured in countless books and industry magazine.

In my spare time I love to read, bake and travel.  I live in Florida with my husband of 34 years and together we work with the youth in our church. I also have a heart for mission work, having served in Panama, El Salvador, Romania and Honduras.