Blending Abstract


A Beginner's Guide to Mixed Media Tools and Art Play

"What happens if I do this?" There is a certain kind of magic that happens when we embrace that way of thinking while we create; trying out new things and ways to use them solo or mixed(media) with other tools.

In the spring of 2020, I embarked on my fourth year of The 100 Day Project. I chose to create messy abstracts on paper and decided to use a lot of my supplies. I wanted to experiment and find new ways of using them.

I ended up using soft pastels with water, which is so not the traditional way of using them. I became familiar with pastels years ago, but quickly rejected the powdery mess they left on my fingers.

What fun it was...they are like a chalky watercolor. Instant coffee, crayons, pencils, gesso and watercolor joined the art party and I was off and running.
Curious minds began asking me about how I was using the pastels. "You can use them with water?" they asked. Yep and there isn't a mess!!

More questions poured in about how I was creating my messy paper paintings and what I was doing with them.

Say hello to Blending Abstract!

A beginner's course for learning how to use different tools and mediums, blending them together into colorful and messy abstracts!

This is a bit of a departure and change from what I normally teach, but sometimes getting back to basics is necessary!

Join me in learning how to put your supplies together to create your own unique expression of mixed media.
Course Focus
•This course is for beginners
•Swatching soft pastel brands
•Review of soft pastels, crayons, pencils, oil pastels and watercolors for mixed media
•Using soft pastels in a variety of ways with water
•How to mix a variety of mediums into an abstract painting on paper
•How to mount paper art to canvas panels
•Scanning your artwork
•Art journaling ideas with your artwork and step-by-step process
•Review and testing of fixatives
Course Features
•4+ Hours of Video Content
•Downloadable Videos: Yes
•User-friendly classroom
•Short, to-the-point instructional videos in HD
•Compatibility across all your devices
•Download is in PDF format, compatible with all systems
•Private Facebook Group to ask questions, share your work and meet other artists!
Hear What Students are Saying...
 Course Bonuses

#1: In this bonus project, we will create a journal page using pieces from our abstract painting. 
#2: I will show you step-by-step how I scan my artwork!
#3: In this bonus project, we will create a journal page using color copies of our scanned artwork.
#4 - Live Zoom Play Session Replay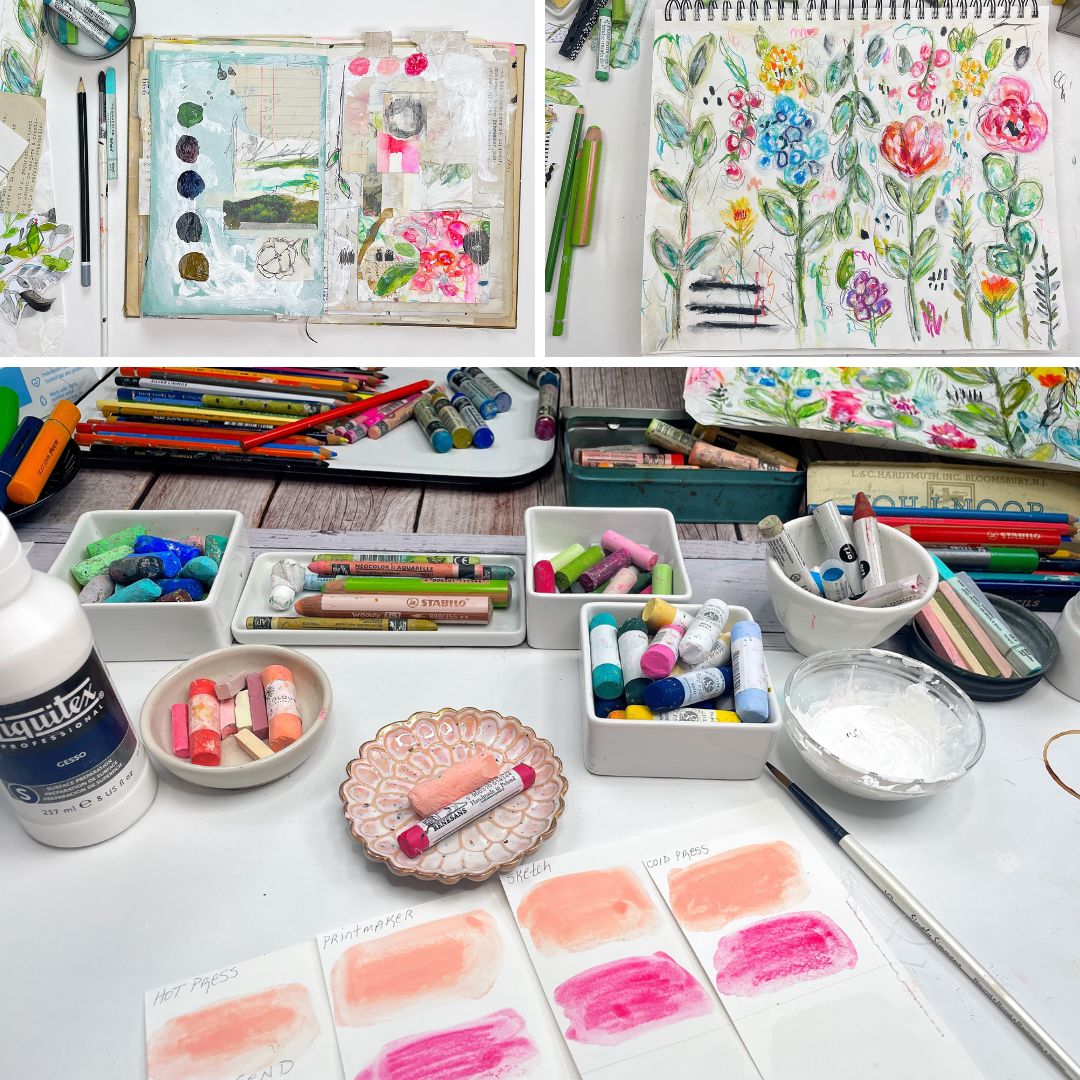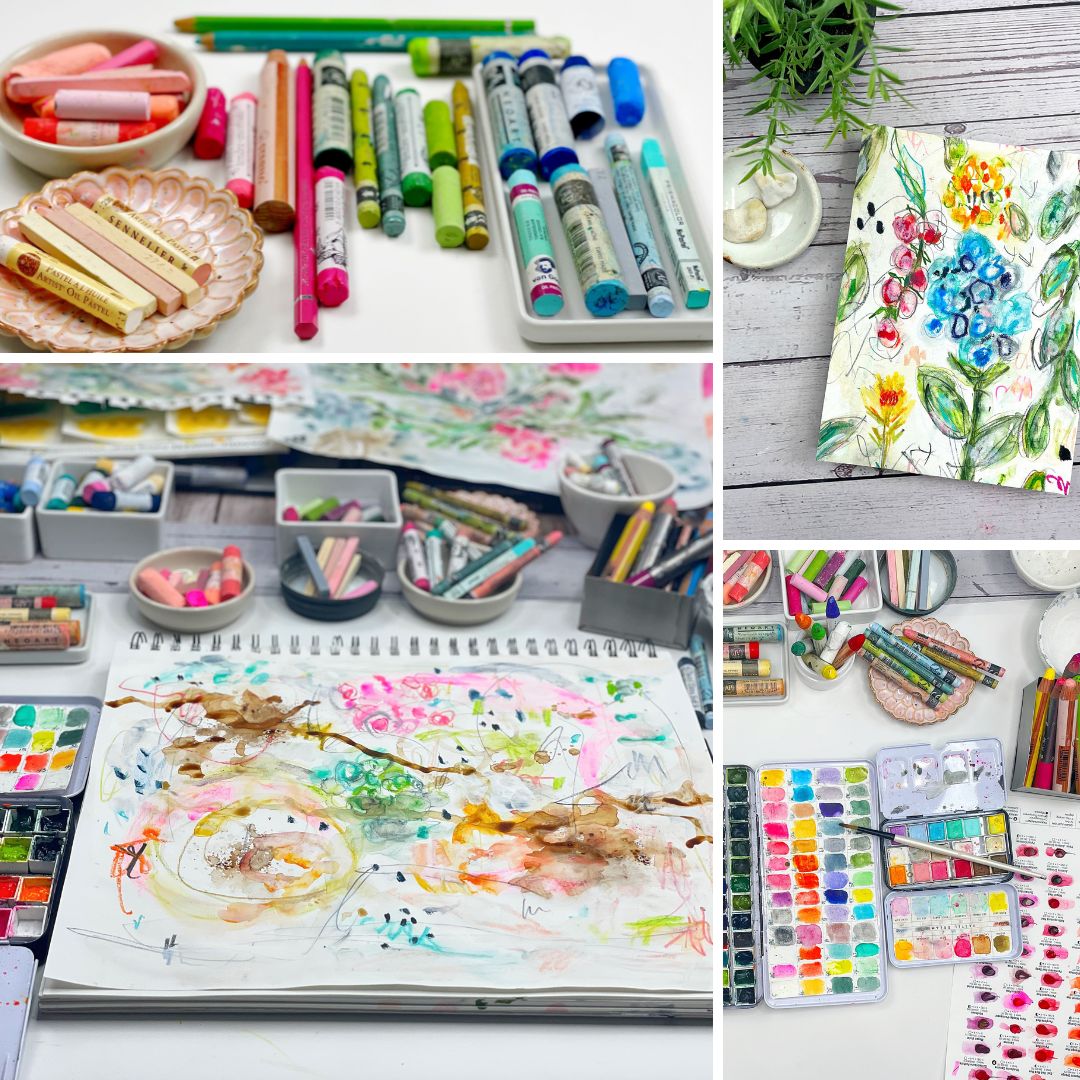 Frequently Asked Questions
These are some of the questions people most frequently ask :
When does the course start and finish?
This course is self-paced so all content is available when you sign up.

Do you provide a list of the specific supplies you use?
Yes, I provide a supplies list but feel free to use what you have.
Is this course live?
No, all videos are pre-recorded.
Are videos available for download?
Yes, videos are available for download.
How long do I have access to the course?
After enrolling, you have unlimited access to this course for as long as you like - across any and all devices you own. If there should come a time when the school closes, you will be notified.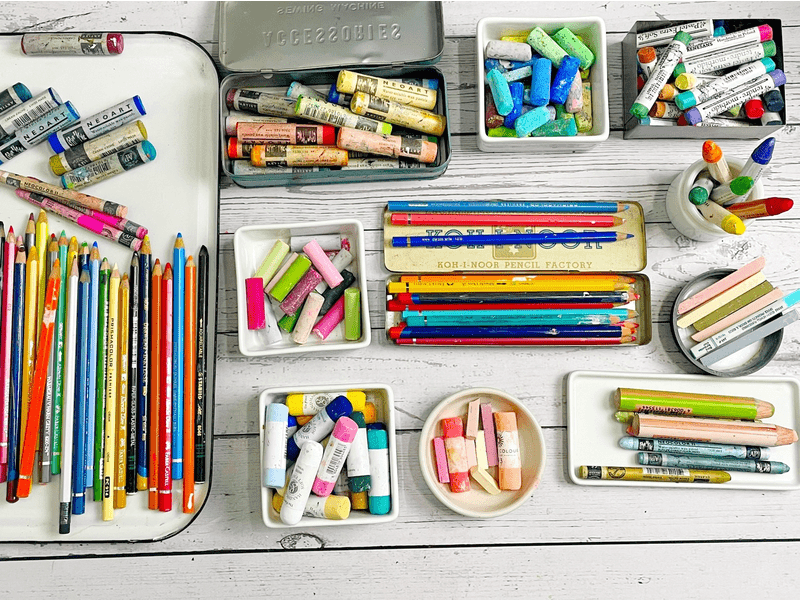 Materials and Supplies:


This course covers a variety of art supplies and tools that I have in my stash. I will be showing and using many, but you don't need all of them. Inside the classroom, I will provide a detailed list with sources of as many of the items I use for those who wish to explore the specific ones I use.


Sketchbook paper
White gesso
Paint brushes
Soft pastels
Crayons
Pencils - I like using water soluble
Oil Pastels*
Black acrylic paint
Deli paper
Watercolors
Pastel spray fixative

Bonus Project - Mounting Art to Canvas Panel
Soft Gel Gloss
Iron
Parchment Paper
Canva Panel - I used 5x7
Wrapped Canvas - I used 4x6
Exacto Knife
Cutting Mat
Bonus Projects - Art Journal Pages
Glue stick
Your favorite journal
Collage fodder

*Optional
Hey!  I'm Roben-Marie and I provide ideas, inspiration and quality instruction for hobbyists and art entrepreneurs. I teach artists from beginners to those making a living from their art through my blog and my popular online workshops.  Both in and out of the studio, my passion is helping my fellow creatives step into their full potential by creating confident and expressive art.


As a woman of faith I believe that I'm called to serve and support others, so I strive to be accessible to artists who need my help. Seeing other creators embrace their unique voices, build their online art dreams and gain confidence in their new skills brings me great joy.


I've been a working artist since 2004, am self-taught and believe that anyone can cultivate their creative spark. I've taught mixed media art workshops and retreats across the U.S. and my work has been featured in countless books and industry magazine.

In my spare time I love to read, bake and travel.  I live in Florida with my husband of 34 years and together we work with the youth in our church. I also have a heart for mission work, having served in Panama, El Salvador, Romania and Honduras.